Regular price
Sale price
$24.00
Unit price
per
Sale
Sold out
Product will be ready for despatch in the last week of October
Tired of the discomfort and embarrassment caused by unwanted hair in your butt area?
Guess what the number one question asked by our customers is after trying our best selling barenuts…?
Yup, for real "Can I use this on my butt hair?"
So we've listened and worked tirelessly over the last year and a half with our chemists and skin specialists to bring you bare butt hair removal cream, specifically designed for removing hair from sensitive, tricky skin areas like the butthole!
So guys, say goodbye to those awkward moments and hello to newfound confidence with nutcare's revolutionary solution!
barebutt is for men who want a hassle-free way to remove unwanted hair from their derrière with ease and precision.
Key Features:
🌟 Gentle and Effective:
A specially formulated hair removal cream that's gentle on your skin while effectively removing unwanted hair, leaving your butt area incredibly smooth.
🌟 Easy application:
No more bathroom gymnastics with the razor and scissors! Simply lift your leg and rest your foot on the side of the bath/ seat and layer the cream on with your fingers, ensuring you get the perfect results every time. 
🌟 Quick and Painless:
Say goodbye to painful waxing or dangerous shaving and cutting. Our gentle hair removal cream works quickly, so you jump in the shower and easily wipe it away, leaving you to get on with your day feeling fresh, clean and comfortable. barebutt is enriched with jojoba oil and pro-vitamin B5 to keep your skin calm and comfortable.
🌟 Results:
Enjoy immediate silky-smooth clean and fresh skin. With barebutt, you gently wipe away the unwanted hair in the shower with our luxury hand picked bamboo shower mitt and then rinse with cold to ensure fresh and clean skin.
🌟 Discreet Packaging:
Your privacy is important to us. are barebutt bundle comes in discreet packaging (standard postal bags/ boxes), so you can order with confidence.
Don't let the discomfort of unwanted hair hold you back from feeling your best. Embrace the fresh new freedom, comfort and confidence you deserve! Join the thousands of men who have already experienced the life-changing benefits of the nutcare range and pre order your barebutt now and experience the transformation for yourself.
Share
Product description

What is barebutt?

barebutt is a depilatory cream designed and manufactured for the

The term depilatory simply means 'removing the hair'. The cream works through a combination of ingredients to provide an alkaline based product that is applied to the hair. These ingredients work on the protein bond of the hair, providing a chemical reaction that breaks down the hair from the follicle, meaning you can simply wipe the hair away.

Nutcare is very excited to bring its barenuts product to the market. Having worked with our chemists, we have multiple formulations that we trust will balance the properties required to provide the hair removal properties whilst being additionally focused on the sensitive nature of the area the cream is being applied to.

Please note this product is for 18 years of age or older.
Benefits

Tesst descriptionThe decision to remove butt hair is a matter of personal preference, but the most common feedback we hear is:

Hygiene: removing butt hair can help with personal hygiene, by making it easier to clean the anal area without the presence of hair, reducing the risk of bacterial growth or odor (and saving on toilet paper!)

Aesthetic Preferences: some people find it more aesthetically pleasing or feel more confident with smooth skin in the buttock area.

Comfort: the removal of butt hair can be more comfortable, especially during activities like exercise, sitting for extended periods, or wearing certain types of clothing (e.g., swimsuits or tight-fitting underwear).

Reducing Friction: Butt hair can sometimes cause discomfort or irritation due to friction between the buttocks. Removing the hair can reduce this friction and make certain activities more comfortable.

Partner Preferences: people may choose to remove butt hair to meet the preferences of their partners or for personal intimacy reasons.

Cultural or Social Influences: Cultural or societal norms and trends can also play a role in the decision to remove butt hair. In some cultures or social circles, there may be expectations or pressures regarding body hair grooming.

It is all a matter of personal preference, but as our saying goes, "dare to go bare", you will not look back!

How to Use

Apply to hair using your hand. Rub barebutt cream into your hair thickly , leave on for 3-10 minutes depending on hair type.

Wash away using warm wet nutcare mitt (sold separately).

Warning: It is important to patch test on a non-sensitive area of the body first, before applying to your privates. If there is no adverse reaction, press on with peace of mind!

Please note this product is for 18 years of age or older.
Ingredients

Aqua (Water), Urea, Stearyl Alcohol, Ceteareth-20, Calcium Thioglycolic Acid, Magnesium Trisilicate, Calcium Carbonate, Simmondsia Chinensis (Jojoba) Seed Oil, Citrus Limon (Lemon) Peeol Oil, Caprylic/Capric Triglyceride, Propylene Glycol, Titanium Dioxide (CI 77891), Hydroxyethylcellulose, Panthenol, Limonene, Citral.
Shipping

We ship from our Australian Warehouse based in Sydney. Most parcels are despatched within 24 hours of order.

Note: incorrect addresses given by customer will be charged postage twice to resend the parcel.
Returns

We take great pride in our products and we want you to love them as much as we do. If for any reason you are not happy with your purchase we offer a 30 day money back guarantee (note customer pays for postage and handling).

Note: this does not apply when 2 or more of the same product is purchased.
Size

150ml | 5.25FL oz150ml | 5.25FL oz
View full details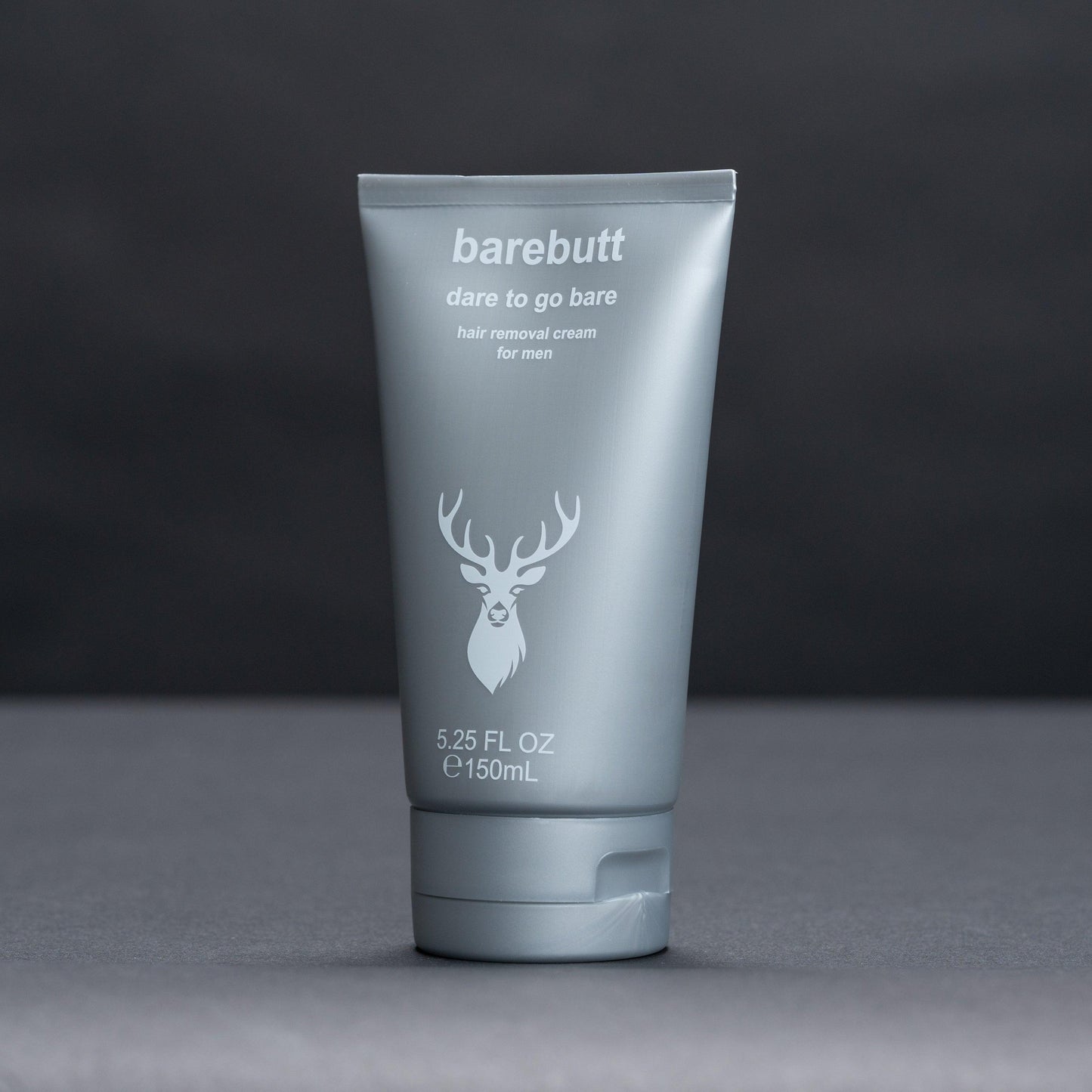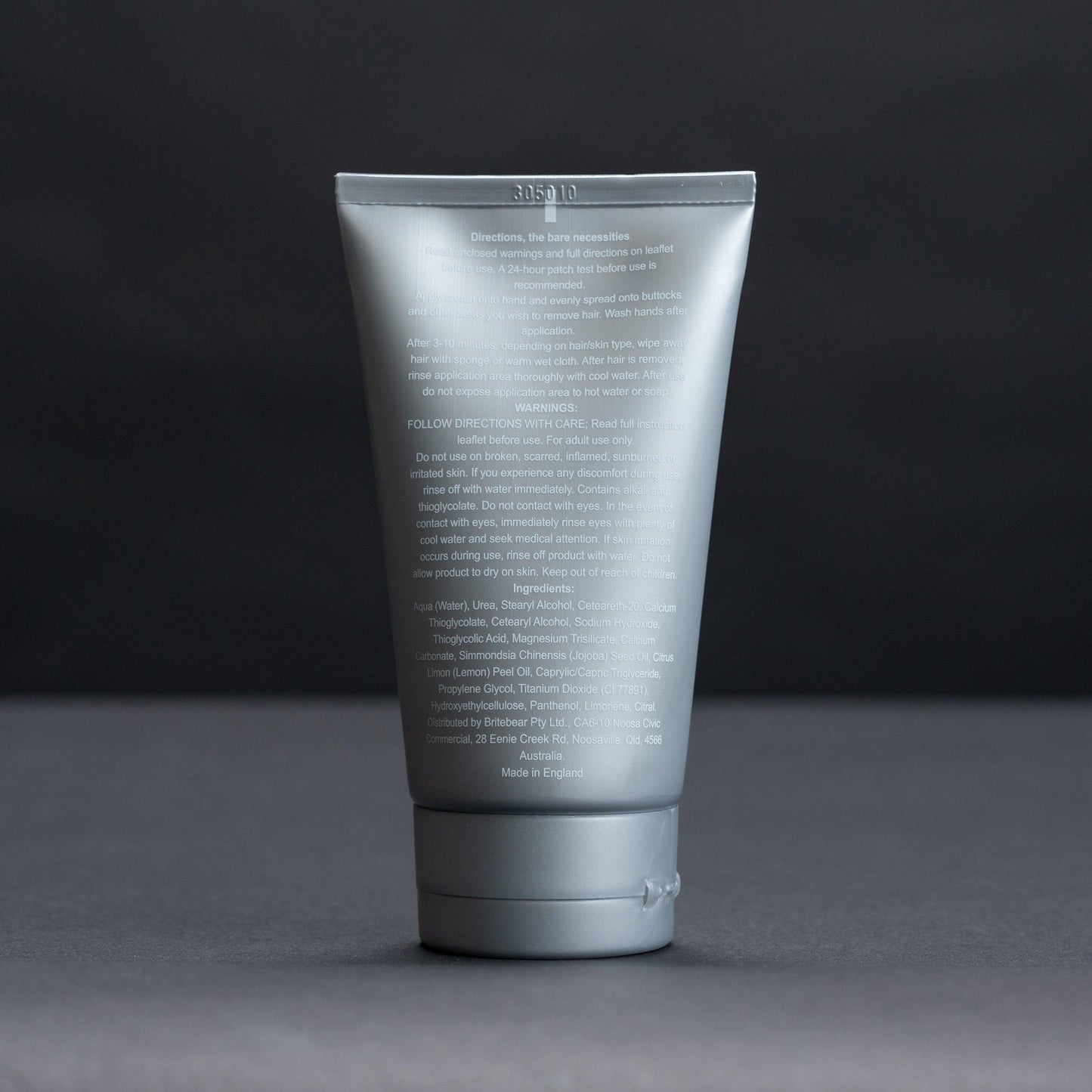 This is the best product I have ever found for hair removal
Barebutt indeed
Highly impressed. I found it removed hair smoother and with less irritation than Barenuts.
Worked incredibly well for me. 10/10. Will use again for sure.
klingons
Works great and much easier than shaving, plus no more klingons. All the top guys will love my butt even more now!